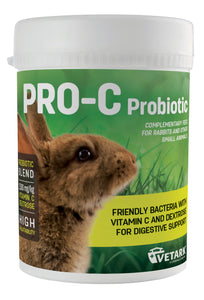 Pro-C Probiotic is packed full of friendly bacteria, with vitamin C and dextrose for digestive support. It is a veterinary formulated complete probiotic (soluble fibre) blend enhanced with vitamin C and electrolytes. Its high palatability means that it can be added to the drinking water or sprinkled on food.

Pro-C Probiotic is particularly valuable when animals are undergoing stress, veterinary treatment or changing homes. The function of the probiotic is to assist the natural gut flora to re-establish itself, whilst the prebiotic supplies soluble fibre. It is also particularly useful in supporting the general health of older animals.

This prebiotic and probiotic formulation is suitable for the routine use in all small animals including rabbits, guinea pigs, chinchillas and degus, and is ideal as a first line of defence while you make the appointment with your vet.
Directions for Use
For general use add 1 scoop per 200 ml of drinking water. Pro-C Probiotic can also be sprinkled onto food at a rate of 1 scoop per 300g of food. Do not breathe in the dust, and wash hands after use. Ensure that the lid is replaced to prevent contamination.
Ingredients
Dextrose, sodium sulphate, sodium chloride, potassium chloride, short-chain fructo-oligosaccharide soluble fibre prebiotic, vitamin C 2,500 mg