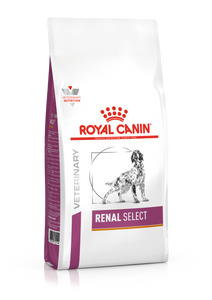 Dogs with Chronic Renal Insufficiency can benefit from a diet that is specially formulated to help to support their condition. ROYAL CANIN® Renal Select is a dry kibble created to nutritionally support adult dogs with Chronic Renal Insufficiency. Formulated with an adapted energy content, ROYAL CANIN® Renal Select helps to reduce meal volume to support your dog's appetite if it has recently decreased. When your dog's kidneys are not functioning as they should, they are not able to effectively filter phosphorus from the blood stream.
ROYAL CANIN® Renal Select contains a specifically reduced phosphorus content. It also contains very high-quality proteins to further support renal function. To ensure you can meet your dog's individual food preferences, the kibble in ROYAL CANIN® Renal Select is easy to rehydrate. Simply add some water and allow it to form a porridge-like consistency before serving. Attracting your dog to their food bowl isn't always easy in cases of food aversion. To cater to each dog's individual preferences, ROYAL CANIN® Renal Select is also available as wet food with a loaf-like texture. Texture variety makes stimulating your dog's appetite easier, particularly when their appetite might fluctuate.
In addition to this diet, ROYAL CANIN® Renal and ROYAL CANIN® Renal Special wet and dry food diets are also available, in order to provide a variety of textures and aromas to support your dog's changing preferences. If you feed your dog a mixture of wet and dry food, be sure to reference the on-pack feeding guides to ensure a healthy daily food intake for your dog.
ROYAL CANIN® Renal Veterinary diets for dogs are formulated to support kidney function in dogs with Chronic Renal Insufficiency. Each formula in the ROYAL CANIN® Renal Support range contains specific nutrients to provide your dog with a complete and balanced diet.
Royal Canin Renal Select Adult Dry Dog Food is suitable for Azotaemic Chronic Kidney Disease (IRIS stage 2* to stage 4) or Chronic Kidney Disease with proteinuria (IRIS stage 1 to 4). This product is not suitable in cases of growth, gestation/lactation or Pancreatitis. This product should only be fed based upon the specific recommendation of your vet.
Ingredients:
Composition: Rice, maize flour, animal fats, maize, dehydrated poultry protein, hydrolysed animal proteins, beet pulp, wheat gluten**, fish oil, minerals, vegetable fibres, soya oil, psyllium husks and seeds, fructo-oligosaccharides, mono - and diglycerides of palmitic and stearic acids esterified with citric acid, marigold extract (source of lutein).Protein sources: dehydrated poultry protein, hydrolysed animal proteins, wheat gluten**.

Additives (per kg): Nutritional additives: Vitamin A: 15500 IU, Vitamin D3: 1000 IU, Iron: 46 mg, Iodine: 4.6 mg, Copper: 14 mg, Manganese: 60 mg, Zinc: 152 mg, Selenium: 0.06 mg - Technological additives: Clinoptilolite of sedimentary origin: 5 g - Preservatives -Antioxidants.

Analytical constituents: Protein: 12.5% - Fat content: 18.0% - Crude ash: 4.4% - Crude fibres: 2.4% - Calcium: 0.6% - Phosphorus: 0.3% - Potassium: 0.6% - Sodium: 0.35% - Essential Fatty Acid (Linoleic Acid): 3.87% - EPA/DHA: 0.47%.

For RSA: Guaranteed analysis g/kg: Crude protein (min) 105 - Moisture (max) 110 - Crude fat (min) 160 - Crude fibre (max) 34 - Crude ash (max) 48.

* L.I.P.: protein selected for its very high digestibility.

Directions for use:
Adult weight
Thin
Normal
Overweight
Dog weight (kg)
grams
cup(s)
grams
cup(s)
grams
cup(s)
2
53
5/8
47
4/8
40
4/8
4
89
1
78
7/8
68
6/8
6
121
1+3/8
106
1+1/8
92
1
8
150
1+5/8
132
1+4/8
114
1+2/8
10
177
2
156
1+6/8
135
1+4/8
15
240
2+5/8
212
2+3/8
183
2
20
298
3+2/8
262
2+7/8
227
2+4/8
25
353
3+7/8
310
3+3/8
268
3
30
404
4+3/8
356
3+7/8
307
3+3/8
35
454
5
399
4+3/8
345
3+6/8
40
502
5+4/8
441
4+7/8
381
4+1/8
45
548
6
482
5+2/8
416
4+4/8
50
593
6+4/8
522
5+6/8
451
5
55
637
7
560
6+1/8
484
5+2/8
60
680
7+4/8
598
6+4/8
517
5+5/8
65
722
7+7/8
635
7
549
6
70
763
8+3/8
672
7+3/8
580
6+3/8
75
804
8+7/8
707
7+6/8
611
6+6/8
80
844
9+2/8
742
8+1/8
641
7