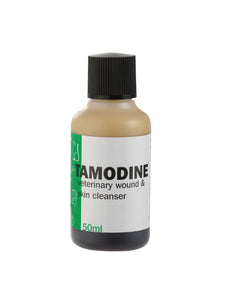 Tamodine Wound is a powerful antifungal and antibacterial tamed iodine veterinary medicine. It is ideal for cleansing and dressing wounds and infected areas in conjunction with veterinary treatment.

It has a wide spectrum of activity against bacteria, protozoa, yeasts, fungi and some viruses. With all of the activity of free iodine, but with much reduced irritant sensitising effects, Tamodine is gentle and non-staining.

We recommend applying Tamodine to wet cotton wool, using this to gently cleanse the surface of ulcers or wounds. Once clean, wipe off any excess, and release the bird. Tamodine is also very useful for cleaning bumble foot lesions, either use it neat on a cotton bud, or dilute for washing down.
Directions for Use
For external use only. Wet the surface to be cleansed, apply Tamodine using cotton wool and clean carefully. Rinse thoroughly. Not to be used on open wound at concentration above 1%.
Ingredients
Povidone-Iodine 0.75%w/v available iodine