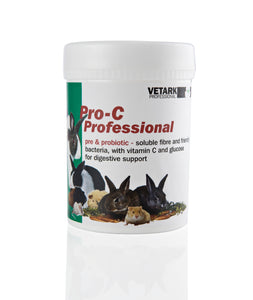 Our rabbit probiotic organism is fully licensed in the EU for use in rabbits and is widely used across all small mammals, whether pet or wild. It is suitable for hedgehogs, foxes squirrels etc.

ProC Professional is based on our Avipro Plus formulation and contains double the number of organisms that 'standard' ProC contains. This means that it is especially useful for support of sick animals needing higher bacterial counts, and is also useful for the person treating large groups of animals such as rescues where it can be used at half strength (to give the same number of bacteria as the standard product).

ProC Professional contains probiotic organisms, fructo-oligisaccharide, vitamins and electrolytes.
Directions for Use
For routine support use 1 scoop per 500 ml water. We recommend a double dose (2 scoops per 500 ml) for support of animals which may be ill, under veterinary treatment or showing signs of additional stress. Pro-C Professional can also be sprinkled onto the food at a rate of 1 scoop per 300 g of nuggets; to encourage it to stick it is best to slightly dampen the food.
Ingredients
Dextrose, sodium sulphate, sodium chloride, potassium chloride, short-chain fructo-oligosaccharide soluble fibre prebiotic, vitamins A 200,00 IU, C 5,000 mg, E 200 mg