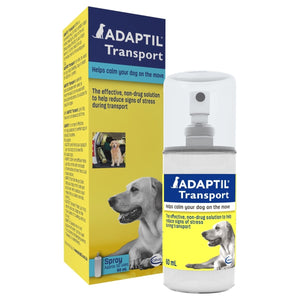 Ingredients:
Imitation dog pheromone (D.A.P).
Description
Adaptil Spray (Dog Appeasing Pheromone DAP Spray) is a pheromonatherapy for dogs; relieving pet stress.
DAP Spray is the natural solution to stress related travel problems in dogs.
Dog Appeasing Pheromone (D.A.P.) 10% spray can be used inside and outside making it suitable for spraying onto bedding, cars, travel cages and of course in the home.
In car use to combat fear of travelling and travel sickness, indoors for settling in a new home, with new owners, staying in kennels or grief at the loss of a companion.
60ml bottle.