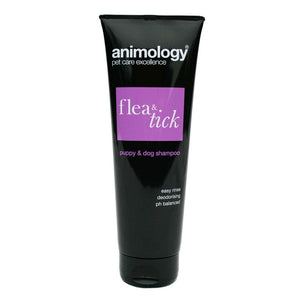 Flea and Tick shampoo by Animology is an advanced formulation that removes fleas and ticks, and targets the cause of unpleasant pet odours. This kind and gentle shampoo cares for your dog's coat and has a low foam formula that ensures easy rinsing and a short time in the bath.
Key features:
washes fleas out of your dog's coat
helps to keep fleas and ticks off of your pet
tea tree scent
pH balanced formula means it doesn't strip essential oils
easy to rinse
Warnings
Only suitable for puppies and dogs over 6 weeks old.
Instructions for use:
Wet dog with warm water, rub in from the neck down, for best results leave lather on coat for approximately 5 minutes then rinse thoroughly with clean warm water. (Repeat if necessary). Dry with a towel or hair dryer. Avoid contact with eyes, ears, nose and other sensitive areas; if this occurs, rinse with water.