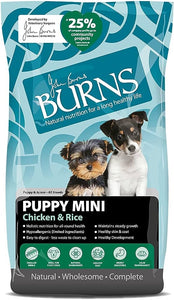 A smaller kibble makes Puppy Mini especially suitable for small and toy breeds. This food is a complete diet that contains all the essential nutrients needed for healthy growth and development. Chicken and fish provide essential protein whilst the chicken fat and sunflower oil provide a great source of linoleic acid which helps to maintain a healthy skin and coat. Rice and oats are highly digestible carbohydrates and will supply a steady release of energy to fuel your puppy's playfulness.
Experts agree that healthy puppies need to grow at a gradual rate to avoid skeletal problems later in life. The Burns puppy diets contain a controlled level of protein and fat, helping to ensure your puppy follows a healthy, slow and steady growth pattern.
Product Benefits:
Made with natural ingredients
Specially formulated for toy & small breed puppies
Smaller kibble for smaller mouths
Healthy skin and coat
Hypoallergenic
Composition:
Brown Rice (44%), Chicken Meal (23%), White Rice (13%), Chicken Oil, Oats, Peas, Sunflower Oil, Fish Meal, Minerals, Seaweed.
Analytical Constituents:
Crude Protein 21%, Crude Fat 11%, Crude Fibre 2%, Crude Ash 7%, Copper 21mg/kg, Sodium 0.26%, Calcium 1.1%, Phosphorus 0.9%, Magnesium 0.14%, Potassium 0.6%, Omega-6 fatty acids 2.2%, Omega-3 fatty acids 0.3%

Nutritional Additives (per kg): Vitamins: Vitamin A 25000IU, Vitamin D3 2000IU, Vitamin E 150IU, Taurine 1000mg; Trace Elements: Copper (copper (II) chelate of amino acids hydrate) 12mg, Iodine (calcium iodate anhydrous) 1mg, Manganese (manganous chelate of amino acids hydrate) 20mg, Zinc (zinc chelate of amino acids hydrate) 50mg, Selenium (3b8.11, Selenised yeast inactivated) 0.2mg.

Technological Additives: Antioxidants (mixed tocopherols).
Administration:
The starting point for calculating feeding amounts:
Puppy : 20g per 1kg of body weight per day
Junior : 15g per 1kg of body weight per day
Store in a cool dry place. Once opened, please use within 3 months.
A complete diet suitable for puppies and juniors.