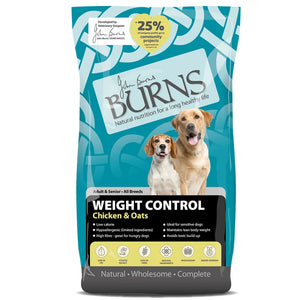 The Weight Control Chicken & Oats is ideal for overweight dogs. It can be used as a general maintenance diet for hungry dogs or dogs that tend to gain weight easily. Naturally high in fibre and made with wholegrain oats it gives a steady release of energy which can help dogs to feel fuller for longer.
Looking for a healthy weight loss food for dogs? Help your pet to shed the kilos with this low-fat Weight Control diet which has been developed by Veterinary Surgeon John Burns for overweight dogs. The range is low fat, low calorie, made with natural ingredients and contains oats which keep dogs feeling fuller for longer.
Product Benefits:
Overweight or hungry dogs
Supports healthy weight loss
Award-winning recipe
Provides slow release energy
Low in fat
Hypoallergenic
Composition: Oats (55%), Brown Rice (18%), Chicken Meal (17%), Peas, Chicken Oil, Seaweed, Minerals.
Analytical Constituents: Calories 319Kcal, Crude Protein 18.5%, Crude Fat 7.5%, Crude Fibre 7.5%, Crude Ash 6.5%, Total Sugar 0.7%, Starch 40.6%, Copper 17mg/kg, Sodium 0.17%, Calcium 1%, Phosphorus 0.70%, Magnesium 0.13%, Potassium 0.55%, Omega-6 fatty acids 2.07%, Omega-3 fatty acids 0.21%

Nutritional Additives (per kg): Vitamins: Vitamin A 25000IU, Vitamin D3 2000IU, Vitamin E 100IU, Taurine 1000mg; Trace Elements: Copper (copper (II) chelate of amino acids hydrate) 12mg, Iodine (calcium iodate anhydrous) 1mg, Manganese (manganous chelate of amino acids hydrate) 20mg, Zinc (zinc chelate of amino acids hydrate) 50mg, Selenium (3b8.11, Selenised yeast inactivated) 0.2mg.

Technological Additives: Antioxidants (mixed tocopherols).
Administration:
The starting point for calculating feeding amounts:
Adult : 10g per 1kg of body weight per day
Senior : 8g per 1kg of body weight per day
Feed for target weight
Store in a cool dry place. Once opened, please use within 3 months.