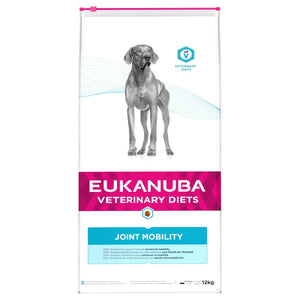 Description
Eukanuba Veterinary Diet Joint Mobility Dog is formulated to help delay aging progression of such joint issues. Nutrition is one vital component of that regimen. This formula has glucosamine and chondroitin sulphate, to provide the building blocks for healthy cartilage; L-Carnitine to help your dog metabolize fat; and micro-crystals to help reduce tartar buildup across the whole mouth during and after meals.

Recommended For: Joint and mobility issues. It is recommended that a veterinarian's opinion be sought before and during the use of this product in order to determine the needs of your dog.
Indications 

Joint/Mobility Issues - Osteoarthritis, Orthopaedic Procedures, Joint Trauma.
May also be prescribed to nutritionally manage aging/senior dog issues:
Gastrointestinal Issues
Declining Immunity
Muscle Atrophy
Weight Maintenance
Impaired Glucose Metabolism
Benefits
Purified sources of glucosamine and chondroitin sulfate

 

- provide the building blocks for cartilage to support joint health
Targeted omega-6: omega-3 fatty acid ratio

 

- helps nutritionally manage inflammation at the cellular level
L-Carnitine

 

- facilitates the oxidation of fat
Reduced fat

 

- helps maintain a healthy weight which minimises stress on joints*
Appropriate levels of high-quality animal protein

 

- helps support muscle mass and vital organs in senior dogs
Vitamin E

 

- an antioxidant to help maintain a strong immune system
Beet pulp (3.5%)

 

- a moderately fermentable fibre that produces butyrate, a short chain fatty acid (SCFA), which is a preferential energy source for the enterocytes and promotes intestinal health
FOS (fructooligosaccharies 0.4%)

 

- prebiotics which aid in GI health and have been shown in a clinical study to help maintain the balance between beneficial and potentially pathogenic bacteria
DentalCare System

 

- to help reduce tartar build-up across the whole mouth during and beyond mealtime
* vs Eukanuba Adult Medium Breed
Composition
Maize, Dried Chicken and Turkey, wheat, sorghum, barley, fish meal, animal fat, dried beet pulp, dried whole egg, chicken digest, brewer's dried yeast, potassium chloride, sodium chloride, sodium hexametaphosphate, fructooligosaccharides, calcium carbonate, linseed, glucosamine (475 mg/kg), marigold extract, chondroitin sulphate (45mg/kg).
Analytical constituents
| Nutrient/Ingredient | |
| --- | --- |
| Protein | 27.0% |
| Fat Content | 11.0% |
| Omega-6 fatty acids | 1.75% |
| Omega-3 fatty acids | 0.25% |
| Crude Ash | 7.10% |
| Crude Fibres | 2.70% |
| Moisture | 8.00% |
| Calcium | 1.15% |
| Phosphorus | 0.95% |
| Vitamin A | 70,000 IU/kg |
| Vitamin D3 | 900 IU/kg |
| Vitamin E(a-tocopherol) | 200 mg/kg |
| L-carnitine: | 50mg/kg |
| carotene | 1mg/Kg |
Feeding guidelines
| Weight | Maintenance (grams per day) | Weight Loss (grams per day) |
| --- | --- | --- |
| 2kg | 45-55g | 40g |
| 5kg | 85-95g | 75g |
| 10kg | 135-150g | 120g |
| 20kg | 215-235g | 190g |
| 30kg | 280-310g | 245g |
| 40kg | 340-380g | 300g |
| 50kg | 395-440g | 345g |
| 60kg | 445-495g | 390g |
| 70kg | 495-550g | 435g |