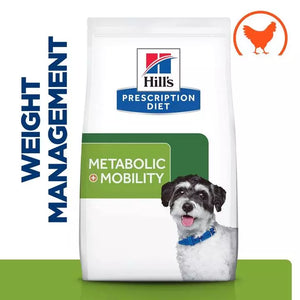 Even a little extra weight can impact the pet's quality of life and relationship with family because that extra weight can reduce play time, impact mobility and affect the lifelong general health of your dog. Hill's nutritionists & veterinarians developed Prescription Diet Metabolic + Mobility Mini dietetic pet food specially formulated to support your pet's weight management and joint health.
This food naturally works with dogs' unique energy use for easy and effective weight loss and can be used long-term. In fact, Prescription Diet Metabolic + Mobility Mini is clinically proven nutrition to help dogs naturally lose weight and improve mobility in as little as 21 days.
This dry food has an irresistible chicken flavour that your dog will love.
Key Benefits:
Nutrition proven to help dogs lose weight.
Synergistic blend of ingredients and nutrients naturally works with dogs' unique energy use for easy and effective weight loss.
Helps keep lost weight off and provides energy for active play.
High levels of omega-3s from fish oil support dogs' ability to run, walk and jump
Helps your dog feel full and satisfied between meals.
Recommended For:
Weight loss and maintenance with concurrent osteoarthritis
Not Recommended For:
Growing puppies, pregnant or nursing dogs. 
COMPOSITION:
Cereals, derivatives of vegetable origin, meat and animal derivatives (chicken 6%), vegetable protein extracts, seeds, vegetables, oils and fats (fish oil 2.2%), minerals, molluscs and crustaceans.
ANALYTICAL CONSTITUENTS:
Protein 24.7%, Fat content 13.3%, Crude fibre 14.4%, Crude ash 5.5%, Omega-3 fatty acids 3.0%, EPA 0.35%, Calcium 0.79%, Phosphorus 0.54%, Sodium 0.30%, Potassium 0.89%, Magnesium 0.14%; per kg: Vitamin A 9,652IU, Vitamin D3 722IU, Vitamin E 900mg, Vitamin C 125mg, Beta-carotene 1.5mg, Glucosamine 1,235mg, Chondroitin sulphate 808mg.
Exclusively feed the recommended Prescription Diet food. Before use ask your veterinarian for specific feeding instructions for your pet.
Fresh water should be available at all times.
New to this food? Mix increasing amounts of your pet's new food with decreasing amounts of the old food for 7 days or more. Your pet's nutritional needs may change as they age. Ask your vet at every checkup.
Store in a cool dry place and use before "Best Before" date.