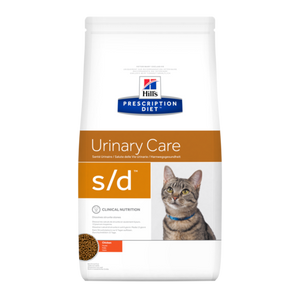 Hills prescription s/d feline diet is carefully formulated to provide the correct nutrients and in the appropriate promotions to help support the treatment of cats with Urinary Tract Disease. Urinary tract disease in cats is often caused by the formation of mineral-based crystals and stones in the bladder and urethra that can cause discomfort, bloody urine and even life-threatening obstruction. In cats, crystals made up of struvite are the most commonly identified cause of urinary tract disease.
Ingredients:
Dry
Ingredients (Dry): Chicken: chicken (39%) and turkey meal, maize, brewers' rice, animal fat, maize gluten meal, soybean oil, dried whole egg, minerals, digest, taurine, vitamins, trace elements and beta-carotene. With a natural antioxidant (mixed tocopherols).
Directions for Use:
These ranges are a starting point only, because cats' needs vary. Adjust the feeding amount to maintain optimal body weight.
Dry
| Body Weight kg | Dry grams |
| --- | --- |
| 2 | 30 - 40 |
| 3 | 40 - 50 |
| 4 | 45 - 65 |
| 5 | 55 - 75 |
| 6 | 65 - 90 |
| 7 + | 10 - 13 per kg |