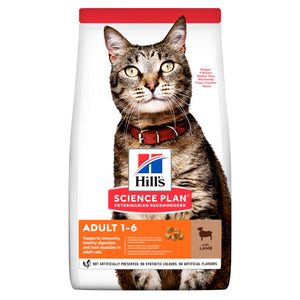 HILL'S SCIENCE PLAN Adult dry cat food is specially formulated to fuel the energy needs of cats during the prime of their life. Made with high quality, easy-to-digest ingredients. Essential taurine for heart health & balanced minerals to support kidneys & bladder. High-quality protein for lean muscles. Vitamin E, Omega-3s & -6s for beautiful skin & fur.
Recommended for
Adult cats 1 - 6 years of age. 
Not recommended for 
Kittens
Pregnant or lactating queens. During pregnancy and lactation queens should be switched to

 

Science Plan™ Kitten Healthy Development™.
Ingredients:
Brewers' rice, maize gluten meal, chicken and turkey meal, maize, animal fat, lamb meal, digest, minerals, dried beet pulp, fish oil.
Analysis
Omega-6 fatty acids 3%, Crude fibre 0.88%, Omega-3 fatty acids 0.4%, Crude ash 5.5%, Phosphorus 0.72%, Fat content 20%, Calcium 0.81%, Sodium 0.37%, Potassium 0.69%, Magnesium 0.06%, Protein 31.7%; per kg: Vitamin D3 599IU, Vitamin A 6,233IU, Beta-carotene 1.5mg, Vitamin C 90mg, Vitamin E 650mg, Taurine 1,919mg.