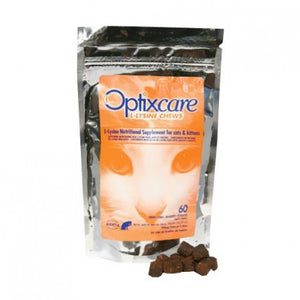 Optixcare L-Lysine Chews are a nutritional supplement that helps to manage Feline Herpes Virus infections in cats and kittens. Each chew contains 500mg of L-Lysine HCL and a tasty chicken flavour to ensure they go down well. Due to the amount of L-Lysine, cats usually require just one treat per day, instead of 4-5 like many other treats.
Benefits 
500 mg of L-Lysine per chew means fewer supplementation times
Bite-Size Chews - easy to give as a treat or crumble on food
Tasty Poultry & Pork Flavor - good palatability
Resealable Foil Bag maintains freshness
Directions for Use:
Cats 1-2 chews daily; kittens ½-1 chew daily or as often as recommended by your veterinarian. Store in a cool, dry place. Keep out of reach of children and other pets. This product is intended for intermittent or supplemental feeding only. Some pets may consider this a treat. In case of accidental overdose seek medical attention.
Ingredients:
Poultry meal, L-Lysine HCL, whey, sorbitol, glycerin, rice, starch, soy lecithin, dried port, glucose syrup, salt, potassium sorbate, ascorbic acid, BHA, citric acid, propyl gallate, ammonium propionate, phosphoric acid, phosphoric acid, sorbic acid, lactic acid, propyl p-hydroxybenzoate.
Analysis 
Min. Crude Protein - 44%
Min Crude fat - 7.5%
Max Crude Fiber - 0%
Max Moisture - 17%
Max Ash - 8.5%