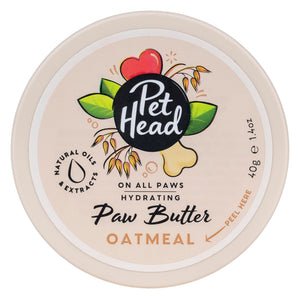 Keep your pooch buttered up! This super nourishing paw butter is perfect for keeping cracked skin at bay!
Pet Head On All Paws Oatmeal with Coconut Hydrating Dog Paw Butter is specially formulated to soothe dry and cracked dog noses and dog paws season-round from in hot, cold, and dry climates.
Pet Head Paw Butter uses a combination of naturally soothing ingredients including shea butter, oatmeal, mango, vitamins E and F, coconut oil, aloe vera and olive oil to provide gentle moisture to dry and cracked dog noses and paws.
Ingredients:
Carthamus, Tinctorius, (Safflower), Seed, Oil, Helianthus, Annuus, Seed, Oil, Olea, Europaea, Fruit, Oil, Synthetic, Beeswax, Bis-Diglyceryl, Polyacyladipate-2, Cetearyl, Alcohol, Aloe, Barbadensis, Leaf, Extract, Ascorbyl, Palmitate, Avena, Sativa, Kernel, Extract, Avena, Sativa, Kernel, Flour, Butyrospermum, Parkii, Butter, Citrus, Aurantium, Dulcis, Peel, Wax, Cocos, Nucifera, Oil, Glycerin, Isopropyl, Jojobate, Jojoba, Alcohol, Jojoba, Esters, Linoleic, Acid, Linolenic, Acid, Mangifera, Indica, Seed, Butter, Oleic, Acid, Palmitic, Acid, Fragrance, (Parfum), Stearic, Acid, Theobroma, Grandiflorum, Seed, Butter, Tocopherol, Tocopheryl, Acetate, Water, (Aqua), Phenoxyethanol, Benzyl, Salicylate.