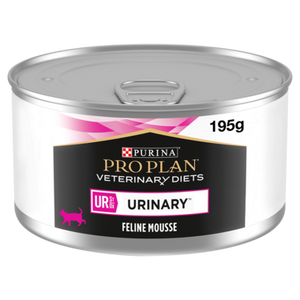 Purina® Proplan® Veterinary Diets Feline UR St/Ox Urinary is a complete veterinary diet for cats with Urinary Tract Conditions. PPVD Feline UR is specially formulated to help dissolve struvite urinary crystals and stones and helps reduce the risk of urinary stones recurring (struvite and calcium oxalate). It can also help nutritionally manage feline iodiopathic cystitis by increasing water intake and encouraging the production of dilute urine. PPVD UR contains nutrients such as omega-3 fatty acids and natural sources of glycosaminoglycans which help support the health of the urinary tract. Note that PPVD UR is not suitable for pregnant queens, growing kittens and cats with chronic kidney disease. If in doubt, please consult your veterinary surgeon.
With St/Ox Urinary Security - to reduce the risk of urinary struvite or oxalate crystal and stone formation.
Moderate calorie to help maintain ideal body weight (obesity being a risk factor for urinary conditions).
Promotes dissolution of urinary struvite stones