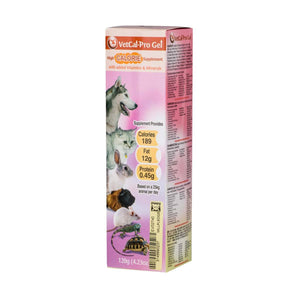 MiVetCal Pro Gel is a high density calorie supplement with added vitamins and minerals. It is ideal for pets including dogs, cats, rabbits, guinea pigs, rats, mice and foals which require a higher calorie input without the extra food volume. It is useful in animals recovering from surgery, debilitating disease or stress, and with weak puppies or kittens, those who have not taken well to food and older animals who cannot keep a good weight. The gel can be easily dispensed straight into the mouth or mixed with food, without the need for syringes.
Benefits 
High density caloric supplement with vitamins and minerals
Highly palatable
Readily digested
Helps to stimulate appetite
Excellent source of energy for debilitated animals
Useful for post-surgical convalescence
Convenient gel formulation
Recognised as an Industry Standard
Directions for Use:
When the animal's caloric or nutritional intake is to be supplemented, give 1.5 teaspoons per 5kg of bodyweight daily. When animal is not consuming full feed ration, give 3 teaspoons (1 tablespoon) per 5kg bodyweight daily. Calorie Content: 4200kcal/kg (25.2kcal/6g).
To acquaint the animal with the flavour, place a small amount of VetCal™-Pro Gel in the animal's mouth. To provide supplemental caloric and nutritional intake in dogs and cats. Provides an added source of energy for hunting and working dogs. Contains Omega-6 and Omega-3 Fatty Acids.
Ingredients:
Soybean Oil (Source of Linoleic & Linolenic Acid) Malt Syrup (Protein Source), Cod Liver Oil (Source of EPA & DHA), Methylcellulose, Water, Peptones, all-rac-Alpha tocopheryl Acetate (Vit. E), Sodium Methyl Paraben & Sodium Proyl Paraben (Preservative), Manganese Sulphate, Ferric Citrate, Thiamine HCl, Niacinamide, Calcium Pantothenate (source of Calcium and Pantothenic Acid), Magnesium Sulphate, Pyridoxine HCl, Vitamin A Palmitate & D3, Potassium Iodide (Source of Iodine and Potassium), Riboflavin 5' Phosphate Sodium (Source of Vit. B2 and Phosphorus), Folic Acid and Cyanocobalamin (Vit. B12).
Analysis 
Crude Protein (Min) | 1.0%
Crude Fat (Min) | 27%
Crude Fibre (Max) | 2%
Moisture (Max) | 14%
Ash (Max) | 1.2%
Calories (Calculated) | 25.2
Calcium (Min) | 0.16 mg
Calcium (Max) | (0.0033%) 0.20 mg
Phosphorus | 0.02 mg
Iron | 0.53 mg
Iodine | 0.48 mg
Magnesium | 0.38 mg
Manganese | 0.9 mg
Potassium | 0.15 mg
Sodium| 1.01 mg
Chloride | 0.33 mg
Vitamin A | 800 IU
Vitamin D3 | 12 IU
Vitamin E6 | 7 IU
Vitamin B1 (Thiamine HCl) | 0.011 mg
Vitamin B2 (Riboflavin) | 1.52 mg
Vitamin B6 (Pyridoxine HCl) | 0.73 mg
Vitamin B12 | 1.83 mcg
Folic Acid | 0.19 mg
Niacin | 1.9 mg
Pantothenic Acid | 1.74 mg