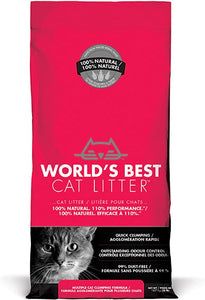 World's Best Unscented Corn Fine Granule Quick Clumping Multi Cat Litter
World's Best Cat Litter is the only brand that offers a family of natural products that use concentrated power to maintain a cleaner litter tray. We eliminate the litter tray hassle for different types of cat owners by offering a selection of natural formulas that guarantee outstanding odour control and high performance clumping.
World's Best Cat Litter offers outstanding odour control because it is the only litter that harnesses the natural absorbency of whole-kernel corn.
It's quick clumping, easy scooping, flushable, pet, people and planet friendly. Made from whole-kernel maize.
MORE CATS SHOULDN'T MEAN MORE OF A MESS.
OUTSTANDING ODOR CONTROL - smells stay trapped deep inside the litter so living with your cat doesn't have to stink.
QUICK CLUMPING & EASY SCOOPING - naturally-absorbent corn traps waste before it sticks to the box so you don't have to chisel and scrape.
99% DUST FREE - corn is free of silica dust, naturally, so you and your cat can breathe easy.
PET, PEOPLE & PLANET FRIENDLY - made from sustainable corn with no added chemicals so you can feel good about your choice.
LIGHTWEIGHT - long-lasting corn delivers the performance you need without the weight so you can give your back a break.
FLUSHABLE* SEPTIC SAFE - tested and proven flushable* and safe for septic and sewer system so you can skip the trip to the bins. Lasts 67+ days when used with two cats. Your cats deserve the best clumping cat litter. *Flush max 1-2 clumps of World's Best Cat Litter at a time in the toilet, only in well-maintained systems. Check with a qualified plumber if you are unsure of compatibility with your system or if any issues arise.
This formula is ideal for all breeds and ages.
This formula is ideal for homes with 2 or more cats or kittens.